Difficulty
Muscle bike: easy - eBike: easy
Duration
2h

- 6h

Distance
- Tour Limone: 20km - Tour Limone + Malcesine: 30km
Elevation
50m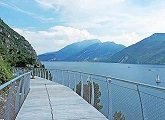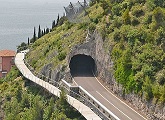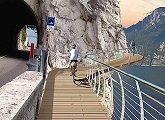 The new Gardesana cycle path that connects Capo Reamol to Limone sul Garda, begins on the border between Lombardy and Trentino Alto Adige. Starting from Riva del Garda, after having covered a stretch on the Eastern Gardesana Road, you will find the beginning of the cycle path already defined as the most beautiful in Europe.
The new bike road overlooking the lake of about 2 km long, offers breathtaking passes to Lake Garda giving the feeling of cycling on its waters. Limone to visit its historic center on the shores of the lake, we propose to cross by boat the stretch that separates from Malcesine and its castle built by the Longobards towards the middle of the first millennium AD.
Despite the beautiful premises, it is our duty to inform you that the way to reach the bike path is quite dangerous, having to ride for 5 km on a very busy road. From Malcesine the return to Torbole - the Western Gardesana Road is also quite busy.
Since you have to cross the sections in the tunnel, for this tour the lights and the reflective safety vest are a must (also for rent in our shop)