| | |
| --- | --- |
| Difficulty | Muscle bike: medium - eBike: easy |
| Duration | 6h |
| Distance | 65km |
| Elevation | 800m |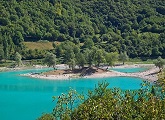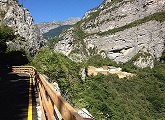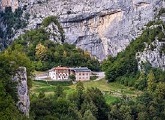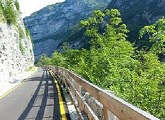 The cycling path of Limarò is something unique, even for less trained cyclists thanks to our electric mountain bikes.
The loop ride that connects the Upper Garda with the Valle dei Laghi, in just 65 km of pure beauty allows you to enjoy a very varied and significant part of Trentino that ranges from the Mediterranean climate of Riva del Garda, to the Alpine spectacle of the Group del Brenta sud and the breathtaking views of the Forra del Limarò, the only one of its kind in Italy
Starting from Riva del Garda there are 2 roads leading to Lake Tenno. We recommend the one that passes first from the village of Deva and then reaches the village of Pranzo. From the junction that precedes the entrance to the tunnel towards Valle di Ledro, go up a 15 km climb with a total height difference of about 600 meters. The road begins immediately by granting wonderful views over Riva and Lake Garda. Arriving at Lake Tenno with its fabulous turquoise water, formed 1000 years ago following a landslide that blocked the course of its tributary, there are only 5 km to the Ballino Pass where a stop at the fountain is recommended where always fresh water flows.
The climbs have ended and after a first descent you arrive at Fiavè and the archaeological site dedicated to its palafitte. We continue to descend, passing through the towns of Stumiaga, Dasindo, Vigo Lomaso and Ponte Arche. Reached the Comano Thermal Station, the road leads up to the entrance of the path that crosses the Forra del Limarò, retracing the old Stefanea road so called because it was built in 800 by Stephen of Hamburg, who was previously the only way of communication between the Valle del Sarca and the Valle Giudicarie. Once in Sarche and past the bridge over the Sarca river, a cycle path leads you to Pietramurata.
Now you have 3 alternatives: the easiest is the bike path that runs along the river to the old hydroelectric power plant of Fies, along Lake Cavedine through the "Marocche" features in a climb of about 1 km, or for the more daring, driving the dirt path at the foot of the Pareti Zebrate. The destination is the village of Dro. Reached the village of Ceniga with its Roman Bridge, take the path that runs along the Sarca that in 10 km of gentle pedaling brings you back to your destination.
A trip that will leave you with an indelible memory.